Apprentice Star Arrested!!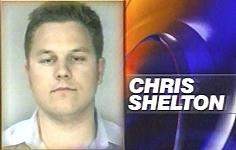 I know this is not real estate related but he is a Millionaire because of Real Estate.
~~~ASSOCIATED PRESS~~~

Shelton, 22, one of six remaining contestants competing for a job with Donald Trump, was taken into custody early Sunday at the Seminole Hard Rock Hotel & Casino. He was released after posting $250 bail.
A tribal police officer heard a noisy Shelton in the hotel lobby and asked him twice to calm down before arresting him, said Seminole police spokesman Gary Bitner.
"He was loud and he just wouldn't calm down," Bitner said.
Shelton was peeved over a $20 cover charge for the hotel bar. Shelton "was at the lobby causing a scene," the police report said. "There were several patrons in the area who were visibly shaken by his actions. After several attempts to calm Shelton, he continued to yell and curse, refusing to calm down and stop causing a scene.
"Shelton and some friends were staying at the hotel and celebrating his continued success on "The Apprentice," Bitner said.
Fliers distributed at the University of South Florida advertised a birthday party for John Gafford, a contestant from Tampa who was fired earlier this season, and offered the opportunity to party with current cast members.
"We don't really have any comment," said NBC spokesman Jim Dowd. "This is clearly a private matter with Chris." All but the final episode has been taped, and it isn't known if Shelton makes it that far.
Shelton of Lake Las Vegas, Nev., sees himself as a young Donald Trump, according to the show's Web site. His claim to fame on the show may be his temper.
Shelton has been spared in spite of throwing tantrums at teammates and outsiders. He spent most of the latest episode waiting for employees to find a credit card he lost at Best Buy, telling an employee he hoped he didn't "have to find an aluminum bat and break somebody's kneecaps."
"He makes mistake after mistake after mistake," fired Angie McKnight told The Associated Press. "He really gives it his all, but I think America knows he should have been fired quite some time ago.
"Fired project manager Stephanie Myers said she would have fired Shelton if she could and observed, "Some people needed some baby-sitting."